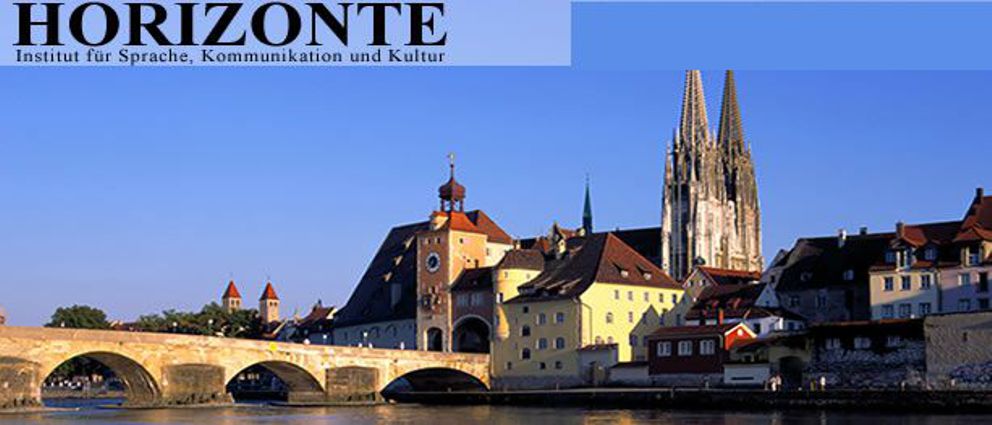 Erasmus+ PIC Code: 933159983
HORIZONTE
German language School
was founded in 1986 and has quickly earned a good international reputation through its high standard of teaching German and its personal, friendly and unbureaucratic working ethos.
The main goals at this German language school are
the development of communication skills in spoken and written present-day German and
an introduction to the contemporary social, political and cultural situation in Germany.
Horizonte School lies right in the middle of
Regensburg
(UNESCO World Heritage),
the largest medieval city in Germany. It h
osts a large number of street festivals
and other cultural events every year and is
one of the
most beautiful, liveliest and fastest growing citie
s in Germany, lies on the river Danube, at
its northernmost point, close to the Bavarian fores
t.
It takes just an hour to get here from the Munich a
irport.
Very close to the school there are many bars, cafés, bakeries where you can have breakfast and lunch and get all kinds of food.
The school has eight permanent bright fully equipped classrooms (and more in peak season) with picturesque views over the city and to the cathedral.
The following are always guaranteed:
a variety of teaching methods, in which cognitive, communicative, spontaneous and creative elements are combined
qualified, experienced and committed teachers
a communication-oriented, effective and state-of-

the-art teaching methodology

varied leisure time activities
free internet access
a library
With a sound knowledge of German you will have excellent perspectives to get a job in Germany.

Big
German companies like BMW, Siemens, Osram, Infineon, Continental, Krones and others based in Regensburg or the Regensburg region are desperately looking for qualified staff
like engineers, computer and IT-specialists, … especially, the health sector is recruiting doctors and nurses.
If you don't have any knowledge of our language you should allow yourself a minimum of 6 months to reach a level of German which allows you to communicate with your colleagues.
course fees

leisure time programme (except transport and admission fees)

materials

enrolment fee
For details on dates and fees, please consult course descriptions.